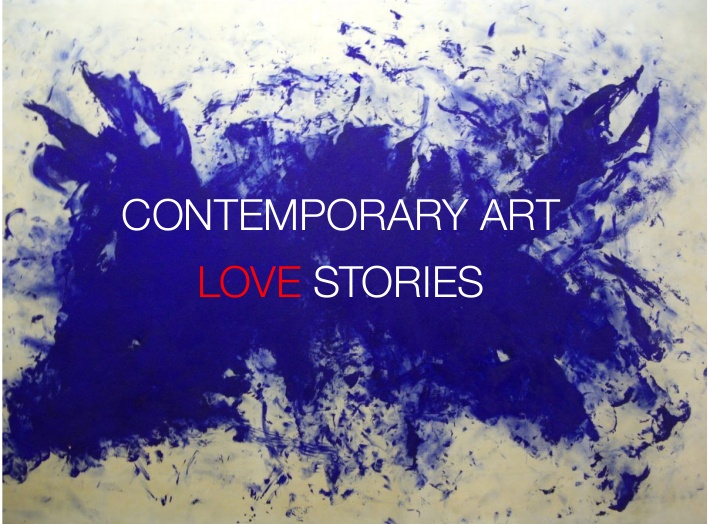 Within the history of art, the concept of love has been one of the most widely depicted themes, whether through an intimate recollection, a passionate embrace or a stolen kiss. Visual artists have been driven by love and desire to create memorable works of art for centuries, providing us with an intimate insight into a country's culture and values, as well as providing a narrative of the evolution of relationships throughout time.
BLUE believes that contemporary art shatters the conception that love looks a certain way. For BLUE, there are some pieces that capture every type of love. From sweet to sensual to tragic, these 5 depictions of lovers demonstrate the limitless different forms that love can take in art…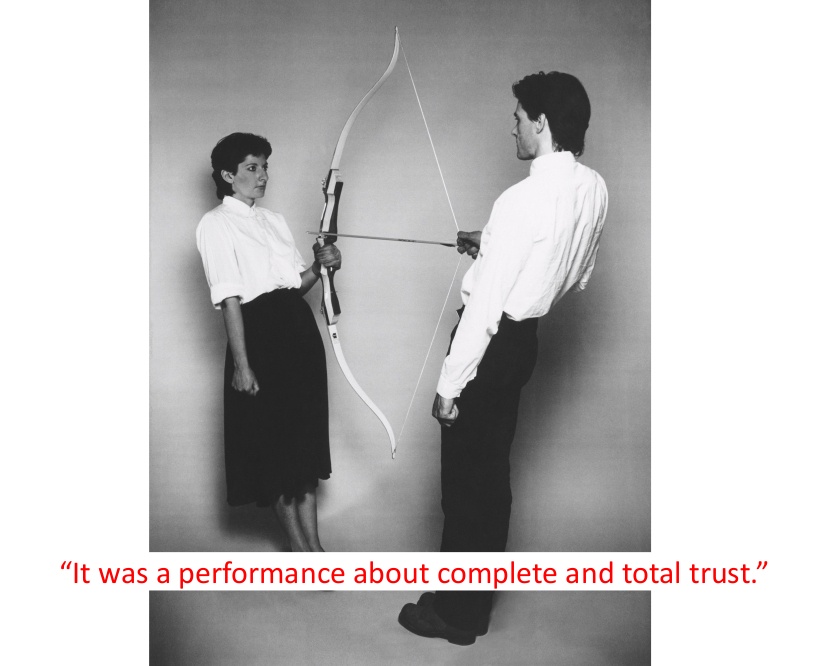 1. Marina Abramović and Ulay Laysiepen, Rest Energy, 1980
Number 1 on BLUE's list of great art love stories is one of our absolute all-time favourite artworks. In his collaborative performance, Abramović and Ulay draw a bow and arrow, each holding one side. Microphones pick up their quickening heart beats and irregular breathing as the arrowhead fatally points at Abramović's heart. Marina Abramović has described this performance piece as one of the most difficult pieces she has ever done, saying "As our performance was progressing, heartbeats were becoming more and more intense, and though it lasted just four minutes and ten seconds, I'm telling you, for me it was forever. It was a performance about the complete and total trust."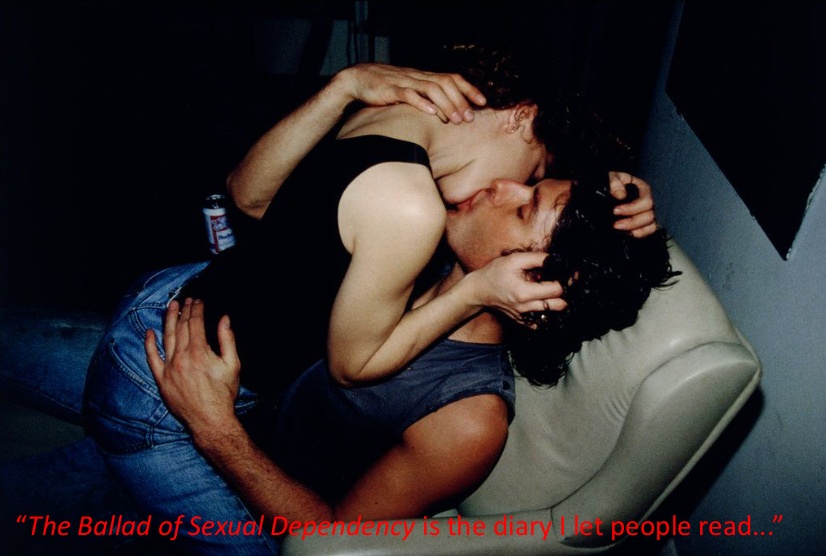 2. Nan Goldin, The Ballad of Sexual Dependency, 1970s-1980s
"The Ballad of Sexual Dependency is the diary I let people read," Goldin wrote. Comprising almost 700 snapshot-like portraits against an evocative music soundtrack, this work is a visual diary portraying the life of Nan Goldin and her friends through the 1970s and 1980s, captured in intimate moments of love and loss. Chronicling the struggle for closeness and understanding between friends and lovers, the ballad beats to a rhythm of fierce intimacy. Some pictures are moved, blurred, imperfect, but passion is often messy and inconsistent. The rich colour photography and candid style demand that the viewer go beyond the surface to encounter a profound intensity.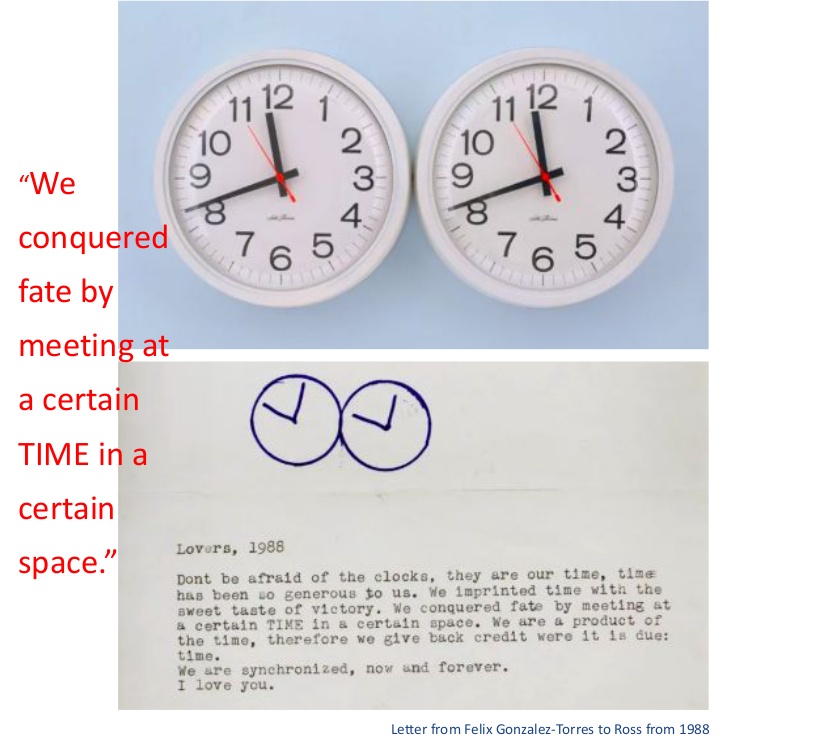 3. Felix Gonzalez-Torres, "Untitled" (Perfect Lovers), 1991
Untitled (Perfect Lovers) consists of two clocks that start in synchronisation, but slowly and expectedly, they fall out of time. The two clocks are illustrative of the two lives destined to fall out of sync, as Torres' partner Ross Laycock was diagnosed with AIDS in 1987. In a letter sent to Laycock in 1988, Torres showed a rough sketch of the piece, entitled merely 'Lovers'.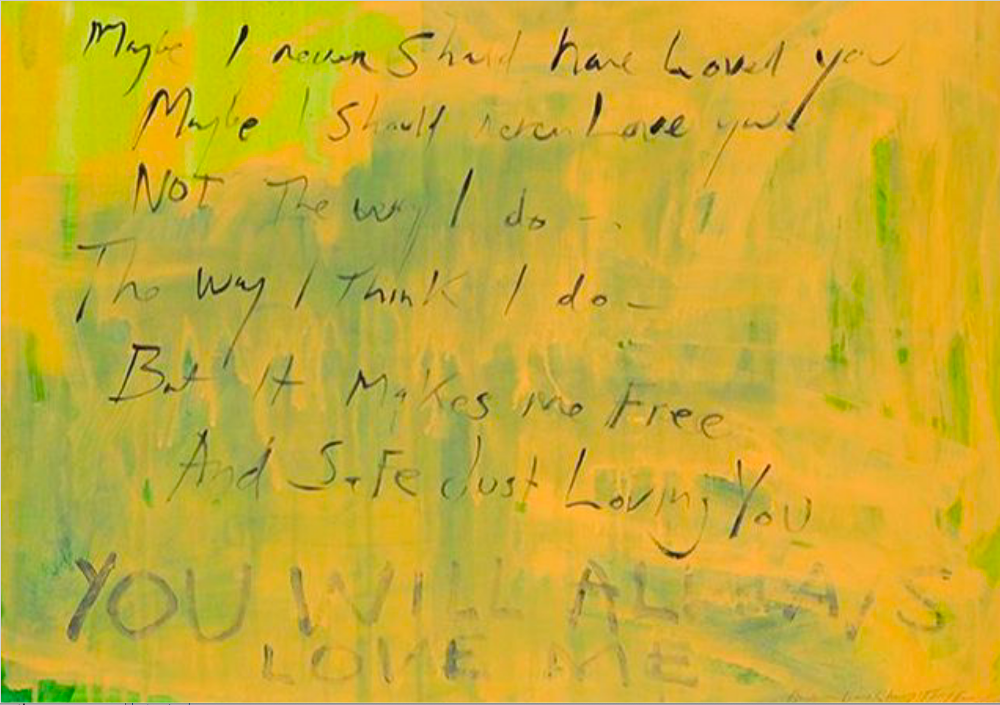 "It's my life. I think I've cried over more people that I love. "
4. Tracey Emin, Another Love Story, 2011-2015
This work is the result of an intense process of self-discovery. It draws on and poignantly illustrates a self-reflective moment in the artist's life, addressing the pain of loneliness, the complexity of desire, and the bitterness of separation and loss. "It's my life. I think I've cried over more people that I love than people that I hate. I don't think I've really hated hardly anyone. I think my big mistake is loving people too much," she has said.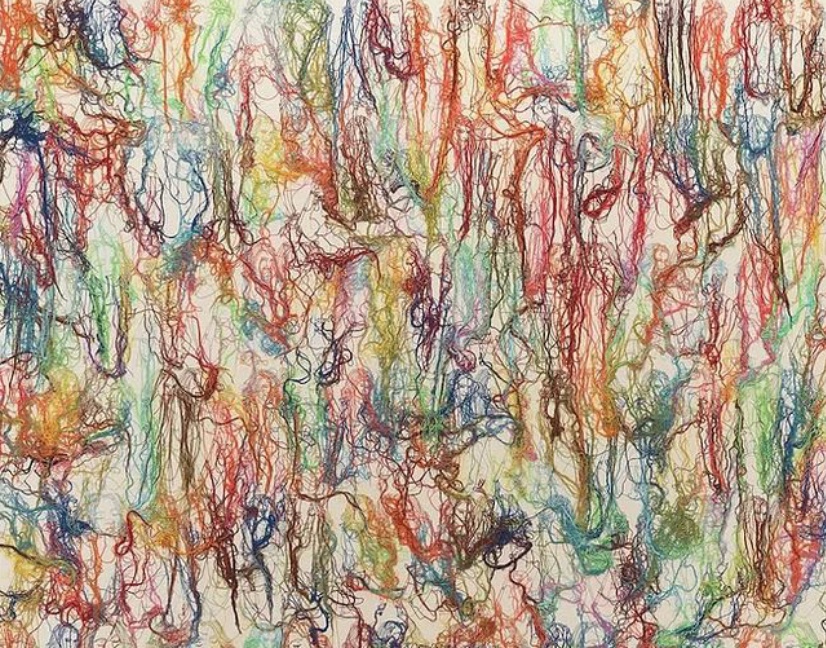 "I am empowering women not criticising men."
5. Ghada Amer, My Numpheas 2, 2018
Cairo-born Amer lived and studied art in France, before moving to New York in 1995. Amer uses embroidery to mimic the painterliness of Jackson Pollock's drip paintings, finding new ways to enter the masculine field of painting, after being denied access at art school in France. Amer's work explores themes of love, sex and untenable desire. By depicting explicit sexual acts with the delicacy of needle and thread, their significance assumes a tenderness that simple objectification ignores. The display of nude female bodies seems to appear and disappear from behind the embroidery, causing the viewer to try to unravel the erotic image.