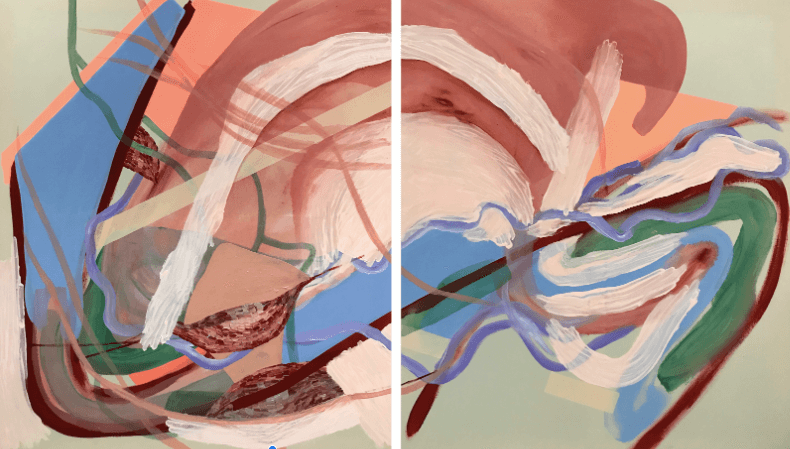 Iris Garagnoux, Diptych Cytoplasm 8 & 9, Acrylic paint and pigments on cotton canvas, 260 x 150cm, 2020
Women to Watch in 2021
"Why have there been no great women artists?" Linda Nochlin asked in 1971. Half a century later, the once marginalised and local voices of female artists are now recognised and global. In museums across the world, last year saw an unprecedented increase in the representation of women. From Tracy Emin to Lynette Yiadom-Boakye, 2020 saw female artists redefining the conversation around women in art and the landscape in which they work. It was another year in which women artists broke through the male canon.
With more women entering positions of power in the gallery and museum sector, including the recent appointment of Naomi Beckwith as Deputy Director and Chief Curator of Guggenheim, New York, and increased visibility of female artists in exhibitions across the globe, BLUE believes that 2021 promises a revolution for women in art.
Working across a variety of different media and tackling themes as diverse as the human body, the passage of time, patriarchal conceptions of history, gender, and identity, here's a selection of 4 emerging female artists to keep an eye on in 2021: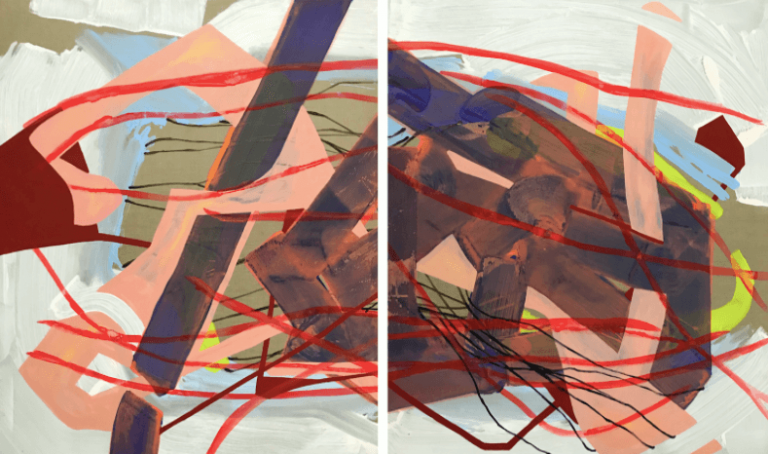 Iris Garagnoux, Diptych Cytoplasm 10 & 11, Acrylic paint and pigments on cotton canvas, 340 x 190 cm, 2021
The constant evolution of the human body, its mechanism and its plasticity is at the core of Iris Garagnoux's practice. Painting allows the artist to create a repertoire of gestures, which she transcribes into sculptural and performative fragments such as body extensions getting closer to the public. Having practised gymnastics for 10 years of her life, the artist seeks to capture physical energy and to materialize it into organic forms, polarized colours and provoked situations. Iris Garagnoux's paintings communicate through marks, gestures, and rhythms. While the canvas is assimilated to a membrane, paint is the cytoplasm, a place of fluid circulation, and the bright colours come from the artist's observation of living matter under a microscope. The Cytoplasm paintings are broken down into patterns that can be associated with bodily tissues and flesh. By exploring Gilles Deleuze and Félix Guattari's concept "Un corps sans organe", ("A Body without Organs"), Iris Garagnoux creates paintings without image, and without proper organization.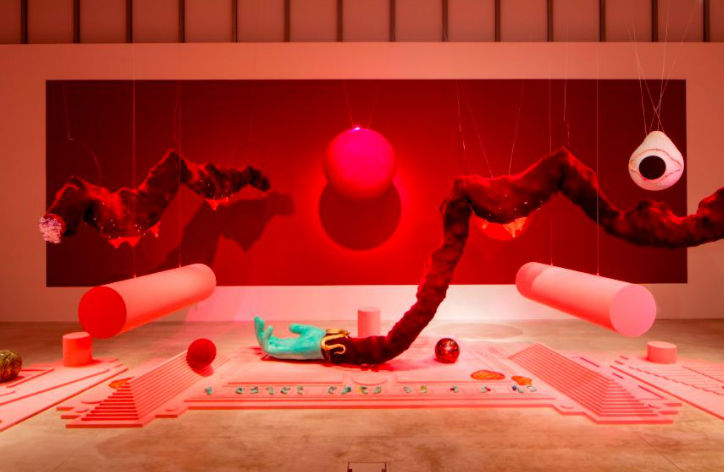 Tai Shani, DC: Semiramis, 2019
Turner Prize winner Tai Shani takes inspiration from disparate histories, narratives and characters mined from forgotten sources, creating dark, fantastical worlds, brimming with utopian potential. Tai's practise encompasses performance, film, photography and sculptural installations, frequently structured around experimental texts. Akin to stepping through a portal, Tai's Turner Prize-winning installation, DC: Semiramis, is an epic tableaux vivant, mixing science-fiction, anthropology, feminist and queer theory, to reimagine a world with interlinked cosmologies, myth and histories. Tai started painting her latest series of captivating and enchanting watercolours during the UK's first Coronavirus lockdown, in an endeavour to express a new relationship she was experiencing with the outside world while living a life of contact experienced through screens.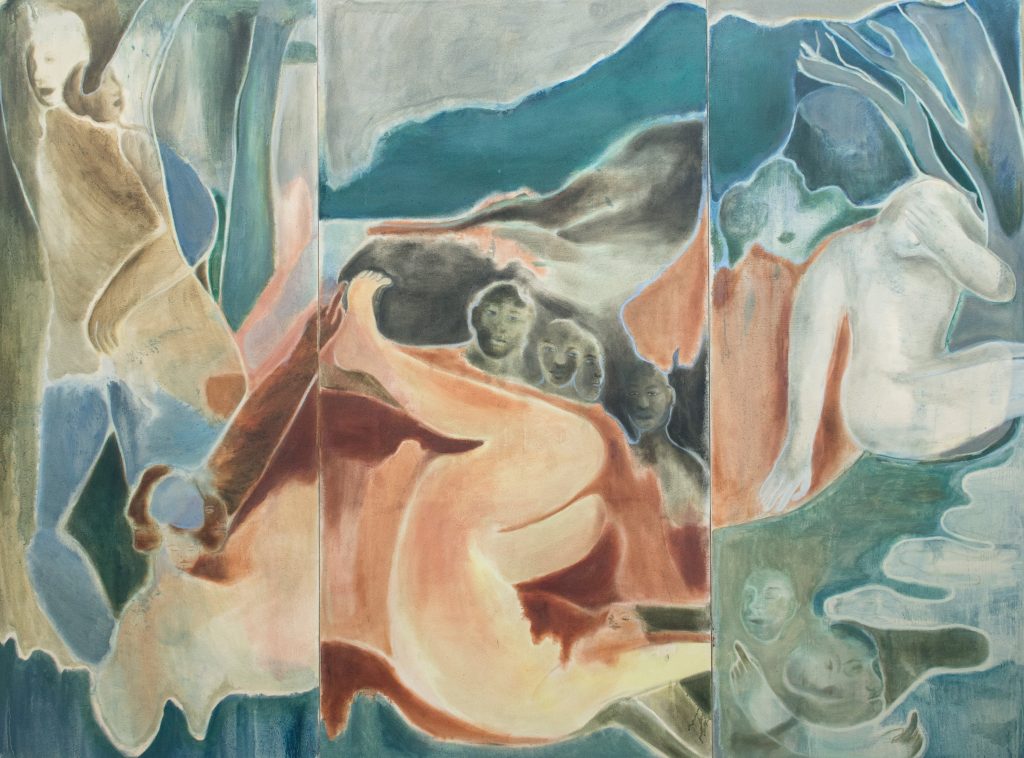 Yi To, At the Height of a Stretch, Oil on canvas, 170 x 225 cm
Born in Hong Kong, Yi To currently lives and works in London. Yi To's paintings explore the dual existence of a universal human experience, where the conflict and disharmony fed by the entanglement between the transcendental ideal and empirical representation serve as a door to the beyond which questions the idea of time and its passage. Attempting to reduce the figures in the images to the utmost basics without concern for gender, culture, space-time, Yi To's work digs into our shared experience as humans and the relationship between us and the 'something' and 'somewhere' we have been looking for. Rooted in fundamental human experience, these works capture our shared imagination for answers to the unknown.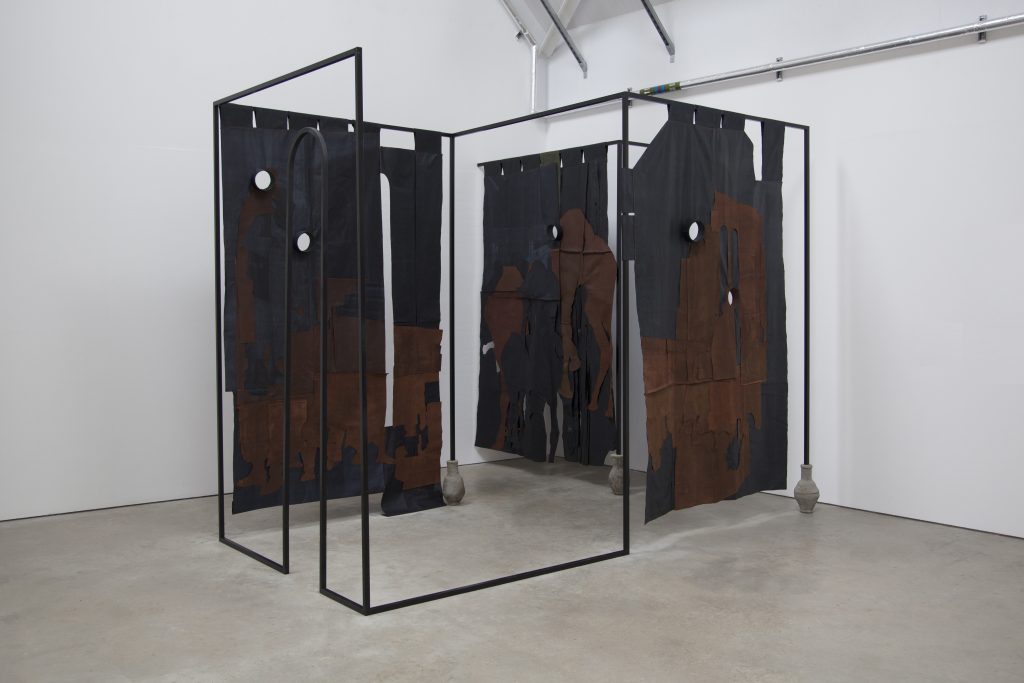 Nour Jaouda,'Friday Prayers at D'arba Al Araba', Printed canvas, acrylic, fabric dye, steel, concrete, 2018
Nour Jaouda is a Cairo-based Libyan artist. Through painting, textile design and installation art, Jaouda explores the notions of place and belonging. Jaouda is interested in issues of cultural mobility, displacement and 'placelessness' in the context of Egypt's cultural landscape, as well as in the precariousness of our cultural identities. Her practice is driven by the tactile process of constructing and de-constructing cultural motifs, found images and historical narratives in order to challenge conventional ideas of identity formation and of otherness. She believes that everything she makes is fragmentary, incomplete and constantly evolving, just like our identities. In these textural compositions, Nour layers personal and collective memories that attempt to narrate the migratory experience and explores the liminal space between here and there, and the familiar and strange.